I read the news online before I even start my day. My alarm goes off at 6:00 am and I lay in bed reading the days news. And today was no different. However, today I wanted to share with you this article that was published about kids and homework.
I've had many moments where I question a few assignments and particularly Science projects and think how my son will benefit from knowing "How Long A Chocolate Bar Takes To Melt" in the real world. Our families mission is sit down for dinner and pray – daily. We've been able to accomplish that. However that's not the issue at hand. Are we timing our day, looking at the clock as the minutes tick away from us, planning our next step, and thinking just how much homework the teachers gave this time – absolutely. In remembering my oldest daughters years in private school, she was being assigned such a workload that she began having bald spots in her hair. The pediatrician saying, it was due to stress – she was eight! Today things aren't looking any brighter, you can find her still doing homework in the hours of 10:00 pm or up to 11:00 pm.
I also read this morning this article published in 2016 – a Texas second grade teacher implementing a 'no homework policy' in her classroom. This article states how, 'studies have found that students in the early elementary school years are getting more homework than recommended by education leaders.' Here's a copy of the letter the parents received that year from the second grade teacher.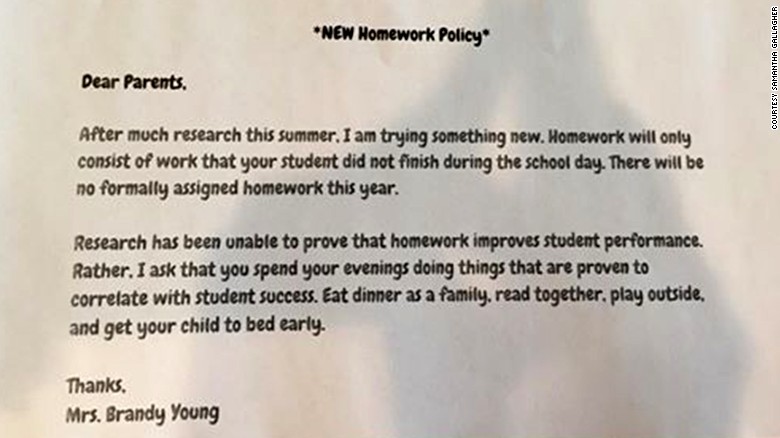 As many of you know – and if you're new here, hello and welcome, I have quite a tiny army. And if there's anything more daunting than bath time, it has to be homework time. It's a process, it's a routine that must be managed with much care and patience. And if I'm even more honest with you, my schedule is done around homework, pediatrician appointments – yes, those too, around homework time! I try to make it so that the children aren't overly exhausted by the time we all need to sit down and begin homework assignments, projects, etc. As to avoid any whining, meltdowns, borderline falling asleep on the table with pencil on hand moments and tears – from me, not them. I often think and joke that when the children graduate – I also graduate! Because parents work just as hard on the homework as the children themselves.
Here are a few key points from this mornings article that I found interesting.
+ The 'pointless' homework issue isn't new. The volume of homework given to children is increasing making it the 'new' issue.
+ One survey of 2,000 parents found that more than half of parents feel they are too busy to enjoy the fun of parenting.
+ If you are stressed and cranky and you have to get home and force them to do homework, it removes the sense that home is a supportive, loving place where you can connect.
+ "10 Minute Rule" 10 minutes of homework per grade. 10 minutes for first grade, 20 minutes for second grade, 12 grade up to 120 minutes. And Kindergartners aren't recommended to get homework, today they are getting about 25 minutes a day of homework.
+ Fight for no-homework policies at your child's school, push back against unrealistic homework assignments, particularly those that will cause unnecessary stress.
+ Gaining 30 minutes or in other cases even 2 plus hours makes a difference in the families well being and gives us the opportunity to remember why we had our children.
+ It's absurd to insist that children must be engaged in constructive activities right up until their heads hit the pillow. Especially after spending six hours a day in school.
+ Children and parents need downtime. It's not to say, downtime needs to be mindless, parents can cook, read and watch tv with their children and then discuss what they just read.
+ It's best to grow skills – such as reading, that they find interesting, then to force them to work through worksheets, forcing them may backfire.
+ Best replacement for homework: a parent / caregivers attention. At school they operate as a herd and teachers can't give them all the attention they deserve. At home they should be seen as the unique, individual, interesting and brilliant people they are.
The article has been thought provoking. Let me know your thoughts on the matter. As to my final thoughts, we need more 'Mrs. Brandy Youngs.'
A-
Follow me on Instagram @simple_naildesigns and subscribe to my YouTube channel. My Online Merch Shop